eee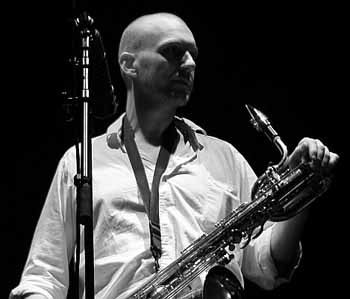 Boris Hauf | 1974 | London | UK
saxophones, flutes, synthesizers, organ, computer-based applications. Works as musician and composer in ensembles, bands and as a soloist.
Composer for ensembles, soloists, installations, performance, film.
Workshops, classes and lectures.
Curator.



Founded efzeg in 1992 and Owl & Mack in 2007; is a founding member of TUB (a.k.a. The Understated Brown) (Berlin);
Collaborates with various choreographers and visual artists:
Litó Walkey, Christina Ciupke, Martin Nachbar, Zoe Knights, Nadia Lauro, Vera Mantero, Franz Poelstra/Robert Steijn, Sabina Holzer, Benoit Lachambre/Andrew Harwood, Lucy Cash, Paz Rojo and others.
Concerts and performances in Europe, North Africa, Latin America, Japan, Korea (South) and the USA.
Collaborates as Severe Moral Purity with Bruno Pocheron and Olivier Heinry.
Initiated and curates the annual composition festival Chicago Sound Map (Chicago) and the concert series Playdate (Berlin).
More than 30 releases on vinyl, cd, dvd, vhs and mp3 for various labels worldwide.
http://hauf.klingt.org