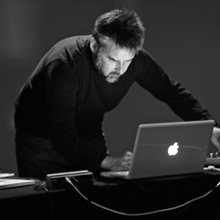 Carlos Santos | 1967 | Lisbon | Portugal
microphones, piezo elements, digital electronics, computer,
maxmsp,small resonant objects and spaces

Randonée 0.06
Vitriol
sirr.records 2001

Permute
(des)integração
sirr.records 2002

Insula Dulcamara
Vitriol
sirr.records 2003

Kreis
CD CS 020, 2005

Kinetics
CD CS 043, 2006

Stills
VGO - Variable Geometry Orchestra
CD CS 100, 2007

Doppelganger
CD CS 103, 2007

Eterno Retorno
CD CS 144, 2007

Twerf Neus Ciglau
CD CS 156, 2008

Live @ Casa da Música
Variable Geometry Orchestra
CD VL, 2009

Winter
CD CS 158, 2010

Suspensão
CD CS 189, 2011

Monochrome bleu sans titre
IKB Ensemble
CD CS 223, 2012

Three Rushes
CD CS 227, 2012
Studied painting with António Sena (Ar.Co, 1988 -1992), worked in advertising for a period of time, but nowadays works as graphic designer in corporate identity, packaging, web and audio-video production.
Started sound/music activities in 1989 when formed the VITRIOL project with Paulo Raposo, a laboratory for experimental sound actions, in a first stage with studio work followed in 1994 by live output, mainly live electronics, concrete music with a improvised or graphic score oriented approach. Uses the laptop with software written in MaxMsp, small resonant objects, microphones and piezo elements to produce a music that deals with space and its sound characteristics. Interests in "soundscape" and field recordings are a huge part of his work, for piece preparation or just for archival purposes, Always recording, events, spaces or music. Multi-channel acusmatic music and radio pieces.
Presents himself solo in site-specific audio-video works, or in duos with João Silva (video, sound, photography), "Inhabitaded Spaces" with Ricardo Guerreiro (computer, mics), "Venús Pistolletto" with Emídio Buchinho (elec. guitar, mics, objects) and trios with Ernesto Rodrigues (violin) and Guilherme Rodrigues (cello) or ZNGR electroacustic trio with Carlos "Zíngaro and Emídio Buchinho. Member of several formations, "(Des)Integração" laptop ensemble (2001-2003) or in more electroacoustic sets, uses live-electronics and sampling which is the case of "Suspensão" septep, VGO, variable geometry orchestra and specially a trio close related to the "near silence" aesthetics, with Ernesto Rodrigues (violin, harp) and Guilherme Rodrigues (cello) with already several CD releases, always with at least one international improviser guest. Presented his work in Portugal, Spain, France, UK and Germany. Worked with artists from several media: dance, performance and video. Music and sound design for video and animation. Video and sound editing for comercial projects. Played live or in recording projects throughout the years with a lot of musician and sound artists. His sound work is documented in several CD releases. Belongs to the Granular board of directors, a portuguese association for experimental art and does the image of Creative Sources label. Broadcasts "Boca Doce" show at Rádio Zero (web) and other special shows. Workshops and seminars in digital audio manipulation, Maxmsp programming and sound art practise.